Welcome to the Montana Career Lab
Need Help with Math?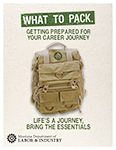 What to Pack (Online Only)
March 2021
This guide helps Middle Schoolers explore their own interests and aptitudes, and see how they relate to different career fields. Budgeting exercises show them how far their money will go in the real world.
Also available: What to Pack Crosswalk