PRE-KINDERGARTEN AND KINDERGARTEN ACTIVITIES
FIRST AND SECOND GRADE ACTIVITIES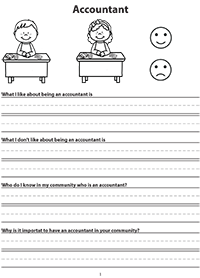 Careers Build A Community- What is a Career and Lesson 1 Accountant
April 2021
This Facebook Activity will be the start of the Careers Build a Community Series of lesson plans and student journal posts.The Careers Build a Community Lesson Plan publication is designed for teachers in grades one through three. Lesson plans are intended to expose students to a variety of careers and provide time for them to reflect upon what they have learned. This introductory lesson introduces the word careers and how it takes a combination of careers to build a community.
THIRD AND FOURTH GRADE ACTIVITIES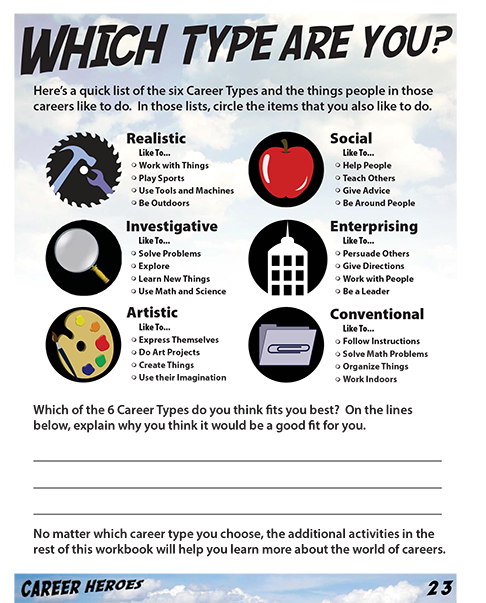 Career Heroes-Find your career type
April 2021
Before starting the Career Heroes activities, take this self-assessment to determine what categories your child/student falls into. The top three career types are likely to be a close match to your child/student's interests.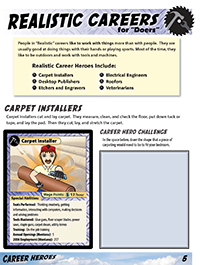 Career Heroes: Doers (Carpet Installers)
April 2021
Careers for Doers
Doers like to work with things, using their hands, play sports, using tools and machines.


Occupation: carpet installers
Academic concept: math 
FIFTH AND SIXTH GRADE ACTIVITIES
MIDDLE SCHOOL THROUGH HIGH SCHOOL ACTIVITIES
CAREER ONE-STOP VIDEOS